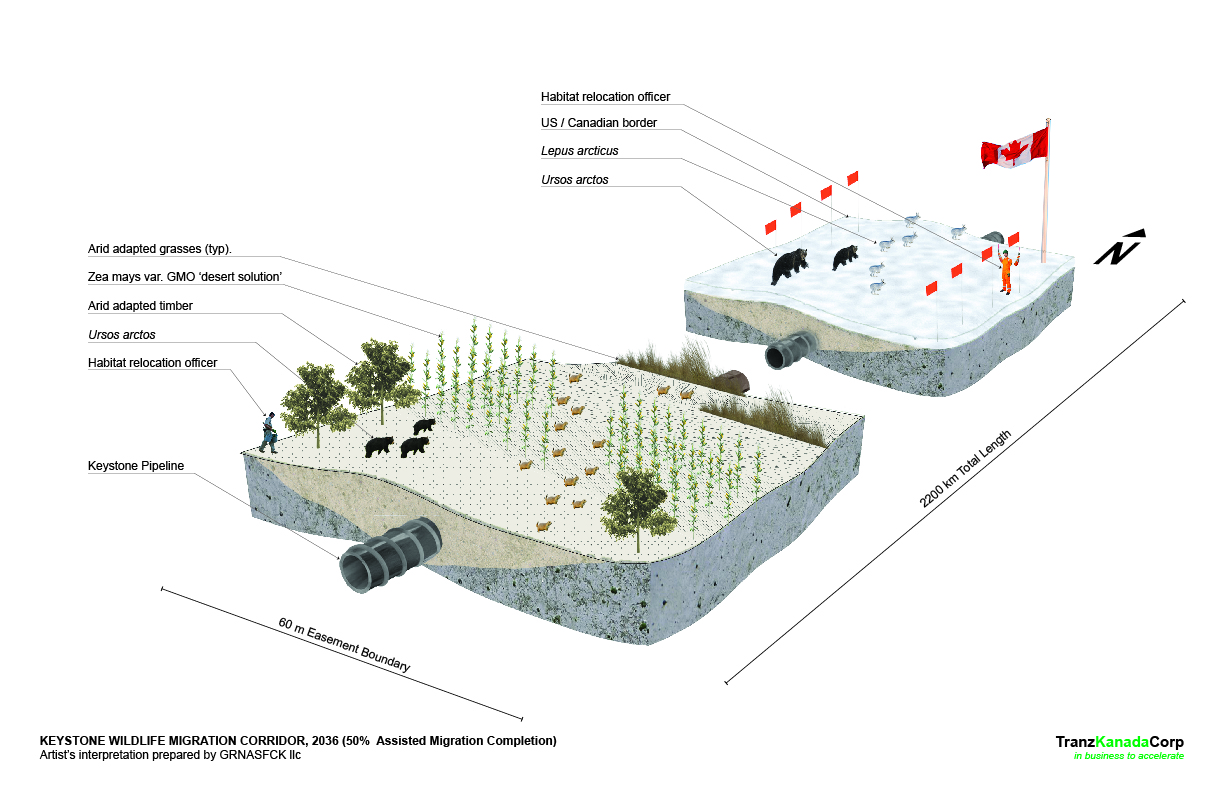 Internal Memorandum - Privileged and Confidential
DATE: 2/6/2026
TO: TranzKanada Corporate Shareholders
FROM: TranzKanada Corp Central Headquarters
SUBJECT: Keystone Pipeline Wildlife Migration Corridor - An Investment Opportunity!

Dear Valued Shareholders,
As you are all aware construction is underway on the Keystone Pipeline Wildlife Migration Corridor. Responding to the overwhelming concern of resource extraction operations and instability, and predicted extinctions of climate-sensitive North American mammals and birds, the Migration Corridor and its dedicated team of Habitat Relocation Officers are now prepared to unveil a comprehensive plan to assist in the resettlement of targeted species into plentiful northern territories over the next twenty-five (25) years.

As presented during last fall's simulcast 2025 TranzKanada America North Forth! Conference, the migration corridor will utilize property easements acquired by TranzKanada Corp in the early 2000s for the construction and operation of the Keystone Oil Pipeline. This collection of pipeline easements constitute a contiguous corridor 60m wide and stretching over 2,200km from Houston, TX to Hardisty, Alberta. While property owners can rest assured no damages will come to their land as disturbance1, the second phase Keystone Wildlife Migration Corridor simply opens the easements to endangered animals previously excluded for construction worker safety.

On the coattails of biologists confirming the habitat value of the north trending open space (Johnson, et al. 2023), citing a rise of grassland dependent species such as grouse and northern cottontail rabbits, and larger mammals such as bears and marmots, the Migration Corridor will now enable targeted species to seek refuge from the perpetual heat of North America. We are confident all necessary measures are in place to tag, trace and monitor all megafauna during their assisted migration north, and a ribbon cutting is scheduled with the simultaneous release of a rehabilitated owl into the wild for March 3rd, 2026. Please watch the live broadcast at www.tranzkanada/xlwild.ca, where you can even follow your favorite wild animal journey north from the controlled climate of your own home!

Following the 95% completion of the Assisted Migration project, TranzKanada will open a turn-key 4.3 billion dollar conservation banking fund in the depopulated drylands of the central United States, no longer subject to stringent regulations of wildlife habitat preservation. TranzKanada's proud dedication to the acceleration of fossil fuel extraction, transportation, and combustion has played a key role in the climate disruption now driving the robust expansion of this exciting new market. It is our pleasure to offer current TranzKanada shareholders the first opportunity to invest in what will be the future of climate disruption and relocation revenue streams and markets.

Please review the enclosed artist interpretation of the operational Keystone Wildlife Corridor prepared by GRNASFCK llc.

Warm Regards,
TranzKanada Corp

1 The vibration induced seismic events experienced during the Keystone pipeline construction were isolated incidents and all pumping stations have subsequently been inspected for pressure and regulatory compliance. TranzKanada is proud to state that we have not experienced a fatal accident since the High Pressure Gas Discharge Event (HPGDE) of 2021.

Published in Ground Up 05: Deliniations, Berkley Dept of Landscape Architecture & Environmental Planning, Spring 2016.